During the recent Metro Ontario's Metro Master Class at Taste of Toronto, I enjoyed making the delicious Msabbaha a vegetarian/vegan dish. The event was held during June 23rd to 26th at Garrison Common Grounds Fort York. Toronto chef, Anthony Rose (Bar Begonia, Fat Pasha, Schmaltz Appetizing, Rose and Songs and Big Crow) walked us step-by-step on how to make the Msabbaha.
I am excited to announce that I was selected, as one of Canada's top online influencers to participate in the Hidden Valley Ranch Ranchify Recipe Challenge. We usually like having the Original and Spicy Ranch dressing with our vegetables and salads. I was thinking how I could ranchify the Original Ranch Hidden Valley dressing in a different way by incorporating seasonal ingredients, and experimented it to make this delicious, flavourful dip that my family and I enjoyed.
To make this dip, I used
1/2 ripe avocado
3 to 4 tbsp ranch dressing
1/4 tsp salt to taste
paprika and celery leaves to garnish
I pureed about 3-4 tbsp of ranch dressing with 1/2 ripe avocado, salt and pepper. I piped the dip mixture into individual plates and sprinkled paprika and garnished with celery leaves. This dip tastes fabulous with baked breaded fish, steamed vegetable and bread.
I think it is easy to incorporate the Ranch dressing into our recipes because they are flavourful and don't have an overwhelming sharp taste. Anyone who likes Ranch dressings will definitely enjoy it with vegetables and fruits such as avocado, tomatoes and more.
All rights reserved on photographs and written content Torviewtoronto © 2010 - 2013 unless mentioned. Please Ask First
Subway restaurants are the world's largest submarine sandwich franchise, with more than 39,000 locations in over 100 countries. Subway Canada introduces seasonal ingredients, avocado and spinach to their line up of sandwich and salad topping for a limited time in over 3000 Subway locations in Canada.
I was able to attend a Subway Canada location to taste the healthy, delicious addition of avocado and spinach in my favourite Subway tuna sandwich. At the event, I was able to become a sandwich artist and make my own sandwich :)
I like having fresh, healthy options, as meal times become more exciting and satisfying. Subway has added spinach to their regular topping and avocado is available for an additional charge at participating locations.
Many of us know the nutritional benefits of avocado and spinach. Here is a little reminder, so we can include these seasonal ingredients more in our diet.
Avocado has soluble fibre that aids in digestion, the monounsaturated fat that raises good HDL-cholesterol and lowers harmful triglycerides, and reduces the risk of heart disease. The Lutein found in avocado helps with eye health. Avocado also has magnesium, potassium, B vitamins and folic acids. Spinach is low in calories and high in magnesium, folate, iron, protein, and omega-3 fatty acids.
Don't forget to add avocado and spinach to your favourite Subway sandwich next time you go to one of the participating locations, as it is seasonal and only available for a limited time.
All rights reserved on photographs and written content Torviewtoronto © 2010 - 2013 unless mentioned. Please Ask First
Savoury Qunioa, Kale orange salad and Fruit salad
I have been a fan of CUTCO for several years, so I had a wonderful time learning more about CUTCO knives at the #foodiesforever event in Toronto. I learned about different types of knives, its specific uses and knife skills at the event, while preparing and enjoying a healthy delicious meal.
Some of the things I learned about kitchen knives are that dull knives can be dangerous as it makes us put pressure when cutting, which is more likely to get us hurt. Also, wooden knife handles are porous and are prone to splintering.
These things are not a problem with CUTCO, as their knives are sharp and have a forever guarantee to keep them always sharp. The comfortable thermo-resin CUTCO knife handles are dishwasher-safe, which keeps them clean and good as new.
We made this delicious Savoury Quinoa at the event, which I tried at home as well. This easy to make healthy meal was also enjoyed by everyone in my family.
1 cup quinoa
2 cups water
1 vegetable cube
1 carrot
1 zucchini
1 tbsp coconut oil
salt and pepper optional
Cut the carrot and zucchini into cubes and leave it aside. Heat the oil in medium heat and sauté the carrots and zucchini for 1 to 2 minutes. Then add the quinoa with the water and vegetable cubes. Let the quinoa cook in low heat covered for about 20 to 25 minutes. Let the cooked quinoa sit for about 5 minutes and serve it warm.

All rights reserved on photographs and written content Torviewtoronto © 2010 - 2013 unless mentioned. Please Ask First
Connect, Collaborate and Commercialize at 
Canada's Only National Digital Media Conference (
CDMN Canada 3.0 Digital Media Conference) that will be held 
at the Metro Toronto Convention Centre on May 14th and 15th. The 
conference
is expected to draw more than 2,000 attendees from industry, government and academia to advance Canadian innovation. The conference 
will feature speakers, 
Canadian entrepreneurship, and 
a wide-range of programs.
345g Cacao Barry Mexique dark chocolate*
250g 35% cream
60g butter
55g honey
80g hazelnut paste


Heat cream, hazelnut paste, butter and honey until it reaches 65C.
Place the chocolate in a bowl then pour the cream mixture over the chocolates. Allow it to sit for a few seconds then stir until it is smooth. Cover the ganache with a saran wrap in contact until it sets.
Scoop the mixture into balls and allow it to firm up for at least 2 hours. The instructor placed the ganache inside a bag and piped it.
This step of placing a hazelnut in the middle before making a ball is optional.
* I learned about different types of chocolates and how to temper chocolates in the microwave without burning it, check out this post for more details. This is a video I took when the instructor at Bonnie Gordon College was tempering chocolates.
All rights reserved on photographs and written content Torviewtoronto © 2010 - 2013 unless mentioned. Please Ask First
I am happy to announce that I will be hosting the Black and White Wednesday #59 this week until November 24th. This inspiring event was started by
Susan from
Well Seasoned Cook.
This picture of the tomatoes from our garden was taken on Monochrome mode.
Please link your entry posts for the event using the linky below and I will add the pictures manually or send the entries by email and I will add it.
Please make sure to add the links to this post and Cindystar's BWW page.
Using this logo is optional.
The twitter hashtag for the event is #BWFood. Black and White Wednesday
#60 will be hosted by Haalo of Cook almost anything.
1.
2.
3.
4.
5.
6.
7.
8.
9.
10.
11.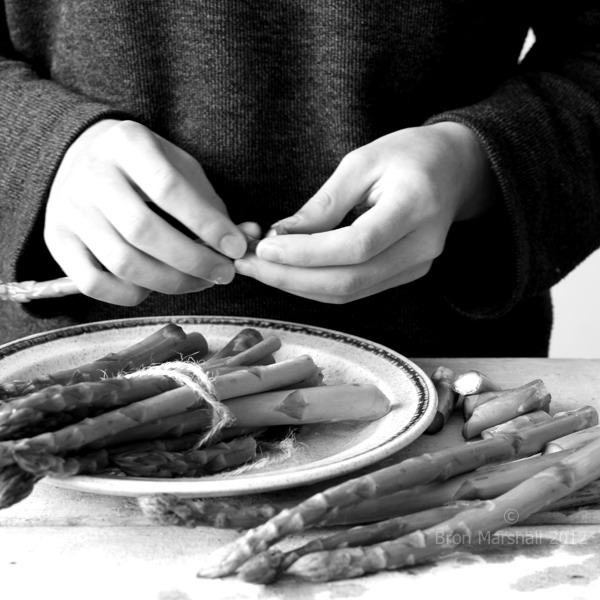 12.
13.
All rights reserved on mentioned photographs and written content Torviewtoronto © 2012 unless mentioned. Please Ask First
2 cups of split mysoor or masoor dal or yellow/orange lentil
1/2 cup cleaned shrimp chopped
2 tbsp onion sliced finely
1 tbsp curry leaves chopped
1 to 1/2 tsp chillie flakes to preference
oil 2" high to fry
*Shrimp can be omitted if you want to make it vegetarian.
Wash and soak the lentils for about an hour or more. Grind the dal coarsely without any water, don't grind well because it would be hard to form the shape to fry.
Add salt, chillie flakes, onion, curry leaves and shrimp to the ground dal and mix. Make ball shapes or use a tbsp full of mixture to drop into the hot oil; it is optional to make a donut shape hole in the middle for these fritters.
Deep fry in hot oil (about 360F), the fritters should not brown too fast so keep the heat in medium high heat and fry until the fritters are golden brown. Serve hot on its own or with hot sauce. These savoury fritters would be perfect for brunch, snack or as a savoury treat for tea time.
All rights reserved on photographs and written content Torviewtoronto © 2012. Please Ask First
Jerusalem cookbook is a fabulously written book filled with
beautiful
pictures and delicious recipes. I enjoyed travelling to

Jerusalem

through this book. The authors Sami Tamimi is from the muslim east and Yotam Ottolenghi is from the Jewish west. They both have lived in

Jerusalem

in the 70s and 80s as children and left in 1990 to Tel Aviv, then to London. They both met each other in London and became good friends and business partners. Both the authors feel that

Jerusalem is

"home" because it defines them. I think many of us call "home" a place that defines us and not necessarily where we live, it is where our hearts find comfort, excitement and joy.
Jerusalem has a diverse group of people living there from a variety of background, which influences its cuisines. The authors say when we look at the greater pictures there are lots of similarities in the food that is made and enjoyed in Jerusalem i.e. cucumber and tomato salad, stuffed vegetables, pickles etc...
Throughout Jerusalem they have a common middle eastern hospitality that goes back to the days of prophet Abraham or Ibrahim (Peace Be Upon Him).
The food is what break down the boundaries of conflict that people in Jerusalem have set. The authors say, "It takes a giant leap of faith... to imagine that hummus will eventually bring Jerusalemites together, if nothing else will."
We have been forewarned by the authors that the recipes are modified to suit the western modern lifestyle as the ingredients are adjusted to availability, less oil and ease of making. Therefore the recipes may not represent the realities of how the food is really made in Jerusalem.
I liked reading the religious history of Jerusalem that was in the beginning of the book. The authors say that if people acknowledge the city as part of the "world heritage" and share, accept and coexist then it would be peaceful. I found the dishes in the book full of flavour and comfort and would really encourage and
recommend this book, which is available at bookstores and online.
Here is a comforting rice and lentil meal, known as Mejadra that we enjoyed. This recipe is adapted from the book as I changed it a little bit because I can easily find ready-made fried onions at the Indian/Middle Eastern section of the grocery store.
1 1/4 cups green or brown lentil
1 1/2 cup crispy fried onions*
1 1/2 tbsp coriander seeds
1 1/2 tsp allspice ground
1 1/2 tsp cinnamon ground
1/2 tsp or more to taste pepper freshly ground
*In the book they thinly slice 4 medium onions. Then coat the onions with 3 tbsp flour and a tsp of salt before frying it in a cup of hot oil over medium high heat, for about 5 to 7 minutes until the onions are golden brown and crispy.
Next time, I will reduce the lentil by 1/4 cup and lightly crush the cumin and coriander seeds before toasting.
Place the cleaned, washed lentils in a small pan and cover with plenty of water then bring to a boil and cook for 12 to 15 minutes until the lentil are soft but still have a little bite.
In a saucepan over medium heat toast the cumin and coriander seeds for about a minute or two. Then add the rice, olive oil, turmeric, allspice, cinnamon, sugar, salt and pepper. Stir to coat the rice with the oil then add the cooked lentil with the water. I made sure there was a 1" of water after putting the rice into the pan. When it comes to a boil, cover with a lid then simmer over low heat for about 15 minutes.
Remove from heat, lift off the lid and quickly cover the pan with a clean tea towel and seal tightly with the lid and set aside for 10 minutes. Add half the fried onions to the rice and stir gently with a fork. Pile the mixture of rice and lentil on to the serving platter and top with the rest of the fried onion. Serve warm with yogurt or raita.
All rights reserved on photographs and written content Torviewtoronto © 2012 unless mentioned. Please Ask First
I had a wonderful time at the Maple Leaf Gardens Loblaws in Toronto cooking with Chef Patricia Muzzi using Ryza products.
Before attending this event, I haven't used Ryza so I am glad I got the opportunity to cook with Chef Muzzi's recipes along with other bloggers.
Ryza is 100% gluten, lactose, dairy and cholesterol free beverage. It is made using whole grain, un-milled, unpolished North American grown non-GMO rice. It has a light taste of rice, and is not very thick. We have to shake the carton well before usin. Ryza is naturally sweet because of the rice grains and there are no added sugar or sweeteners. Chef Muzzi said, that processed sugars are not healthy as it can alter proper neuron function in our brain.
Compared to other rice beverages Ryza has no added fats or oils. One glass of Ryza equals to a full serving of whole grain rich nutrients, calcium and fibre.
There are many benefits in Ryza:
Ryza has calcium, vitamin A, D, B12, thiamine, riboflavin, niacin and phosphorus that gives us energy, improves our learning and memory.
Calcium phosphate tribasic is a mineral salt that prevents accelerated aging of brain cells.
Brown rice has manganese and selenium that helps maintain healthy nerve function in the brain, which keeps us alert and focused.
Selenium also detoxifies our chemical exposures i.e. our surroundings, shampoo etc.
Tryptophan keeps us calm and relaxed.
Ryza is available in original and vanilla flavour. It is sold in many stores i.e. Sobeys, Superstores, Fortinos, Zehrs, Loblaws, YIG and Health Food stores to name a few.
Giveaway
If you would like to win 2 coupons to taste this delicious healthy beverage, leave a comment on this post and enter through the rafflecopter below. Giveaway is open to Canadian readers and ends on October 30th.
Update: The winner is Amy
a Rafflecopter giveaway
Using the vanilla flavoured Ryza, I made these delicious Gluten free rice flour crepes following the recipe from Crepes: 50 savoury and sweet recipes book by Martha Holmberg.
This is good book that has delicious recipes of crepe using different flours. It is separated into savoury filled crepes and sweet crepes. In the beginning of the book, the author talks about her love for crepes, about the ingredients and equipment we will need. The author also has pictures showing how crepes can be folded and presented.
I changed the method of making the batter slightly for this rice flour pancakes as I think it would make the batter smooth.
Gluten free Rice flour pancakes
1 3/4 cup milk or Ryza
3 eggs
1/2 tsp salt
1 cup and 3 tbsp rice flour
2 tbsp melted butter or oil
Mix all the ingredients except for the butter or oil and beat well until smooth. Then add the butter or oil and mix. I strained the batter through a sieve to make sure there were no lumps.
Leave the batter to rest for at least an hour at room temperature before making the crepes. We can prepare this mixture before hand and leave it in the fridge, I left it overnight.
Spread some butter on a non-stick crepe pan. Make the pancakes in a medium hot non-stick pan.
Pour the pancake batter into the hot pan and gently swirl the pan in a circular motion to coat the bottom of the pan and then let the pancake cook for about a minute until the bottom is cooked. Turn the other side and cook for a few seconds before removing from heat.
Serve with savoury or sweet.
All rights reserved on photographs and written content Torviewtoronto © 2012 unless mentioned. Please Ask First
I had a lovely time touring the
Leaside Longo's
store. We had the opportunity to meet Longo's food experts and enjoy an array of freshly prepared food at the event. I enjoyed the fresh delicious oysters that were shucked and served.
I like the Veggie Bar at Longo's, which has freshly chopped fruits and vegetables that are cleaned and pre cut. We can use these freshly cut produce to make healthy meals at home without cleaning, cutting or chopping.
This type of service is convenient for busy families and helps small families to prepare fresh meals at home. It also promotes eating healthy and including a variety of colourful fruits/vegetables in our meals.
It is good to know the freshly cut vegetables are replaced everyday and nothing is wasted because the unsold items are used for the products that are made in the store i.e pizza, sandwich etc.
I would prefer if all the products including the ones made in the store i.e bread etc include labels of ingredients so it is easy for us to make sure there are no ingredients with allergies, and we don't have to bother the service people each time we want to know :)
Longo's is a family owned business that puts quality and customers first. There wasn't fresh halal products at this location, however they had packeted products available.
The cheese section had over 300 different types of cheese, that looked really delicious. They have a fresh juice bar, sushi, pizza, under $10 meals, fresh baked breads, pops and many more. Longo's at Leaside will also be having cooking classes for adults and children in their loft.
I liked the atmosphere and the design of the 1919 brick building that had a market feel. This Leaside building once belonged to the Canadian Northern Railway and was designed to service steam locomotives.
I made these delicious Jalapeño poppers with the Jalapeño from our garden and quinoa from Longo's. This recipe is adapted from 500 Best Quinoa Recipes by Camilla Saulsbury © 2012 Robert Rose Inc.www.robertrose.ca Reprinted with permission.
1/2 cup cream cheese*
1/2 cup cooked quinoa**
1/2 cup shredded cheddar cheese
salt to taste
pepper to taste
6 large jalapeño pepper halved
* to get a delicious flavour don't use fat free cream cheese
**any type cooked I used the multicoloured quinoa. R
inse the quinoa before using by placing it in a mesh and rinse under water.
1 part quinoa with 2 parts of water bring to a boil then cover and cook in low heat for about 12 to 15 minutes until the water is absorbed.
Remove the ribs of the jalapeño if you want to make it less spicy and wash it with cold water before putting the stuffing.
Mix the cheeses, quinoa, salt and pepper then stuff about 1 tbsp of the mixture into the halves of the jalapeño. Bake for about 9 to 12 minutes in a 450F until the cheese is browned and bubbling. Serve hot.
This book 500 Best Quinoa Recipes has 100% gluten free easy to make superfood. The book explains all about quinoa then separates it by breakfast, appetizers, snacks, soups, stews, chills, salads, sides, vegetarian, main dish, seafood, poultry, lean meat, main dishes, breads and desserts. This book also has information about other ingredients that are used in the recipes.
Although quinoa (keen wah) is a seed, it is cooked and eaten like a grain. It is harvested from a broadleaf plant that belongs to goosefoot family related to spinach, beets and chard. The plant grows upwards about 7 feet. When the seed head is dry, the quinoa is shaken out. The seeds are coated in saponin, which is a bitter resin like substance that protects the plant from insects and birds. Rinsing the quinoa before cooking helps get rid of the saponin.



Quinoa has protein, carbohydrate, dietary fiber, vitamins, minerals, thiamine, riboflavin, vitamin B6, folate, magnesium, vitamin E, iron, calcium, phosphorus and zinc. 1 cup of cooked

quinoa

has 30% of daily food requirement. It can be toasted like nuts, sprouted, steamed, baked or cooked. We can grind the seeds to make

quinoa

flour to add into baked goods. It is better to store

the flour

in the fridge or freeze to keep it fresh.

All rights reserved on photographs and written content Torviewtoronto © 2012 unless mentioned. Please Ask First